BMW honoured its best dealers from around the world at a celebratory awards evening in the BMW Group Classic. Pieter Nota, BMW AG management board member responsible for Sales and Brand BMW handed out the awards to the 41 top dealers, saying they were a thank-you from the company to its international dealer body, which had worked so hard to make 2017 yet another successful year.
"2017 was the seventh year in a row where we achieved a new sales record. This consistent success is only possible with strong partners in the dealer organisation," said Pieter Nota. "Satisfied customers are what we all strive to have. We are all working with the common goal to become even more customer-focused and service-oriented. Today's winners are setting a great example and the Excellence in Sales Award is our thank-you to them, recognizing their achievement," he continued.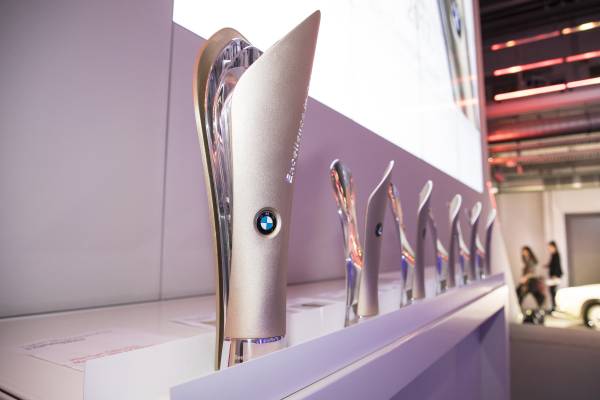 Excellence in Sales Award: BMW honours its 41 best dealers worldwide. (03/2018)
The Excellence in Sales Award is given in six different categories, a special Jury Award. In total, 3,100 dealers from 85 countries entered the competition. The highly-qualified jury selected the 41 winners in the categories Sales, Aftersales, Customer Service, Luxury Class and BMW i & BMW i Performance. The Manager of the Year award recognises the exceptional engagement of individual entrepreneurs. The area of sustainability was given particular importance, with the introduction this year of the "Most Sustainable Dealer" award. An overall winner was then selected in each category.
BMW invited the 41 winners to a three-day visit to Munich which included sight-seeing, fine-dining and exclusive experiences, as well as the awards ceremony. A tour of Munich in historic BMW cars offered the dealers a very special way to experience their brand's home city.
"We are currently in the biggest model offensive in our company's history. With exciting new models like the BMW X2 and the BMW X3, together with the BMW X4 and BMW 8 Series Coupé coming later this year, I am sure that together with our partners and investors in the dealer body, we will make 2018 another record year," said Pieter Nota in the course of the event.
The Winners:
Category – Best Retailer in Sales
Peter Vardy, United Kingdom
BMW of Westchester, USA
Kolon Motors Uijeongbu, South Korea
BaltAvtoTrade-M, Russia
Hangzhou Hecheng Zhibao, China
Reisacher, Germany
Category – Best Retailer in Aftersales
Fuenteolid, Spain
Schomp BMW of Highlands Ranch, USA
Geelong BMW, Australia
Northcliff Auto, South Africa
Shenzhen Southern Baozen, China
Gottstein, Germany
Category – Best Retailer in Luxury Class
Auto Palace, Slovakia
South Bay BMW, USA
Bavarian Motors Incheon, South Korea
Avilon, Russia
Foshan Shenbao, China
Mulfinger, Germany
Category – BMW i & iPerformance
Bilia, Norway
BMW of Honolulu, USA
Toto BMW, Japan
Abu Khader Automotive, Jordan
Shanghai Baozen Zhonghuan, China
AHAG, Germany
Category – Customer Care
Kohla-Strauss, Austria
BMW of Gainesville, USA
Balcom BMW, Japan
Al Fardan Automobiles, Qatar
Luohe Luodebao, China
Freese, Germany
Category – Manager of the Year
Arie Verschoor , Dusseldorp, The Netherlands        
Gonzalo Bosque, Carmen Motors, Mexico
Oleksandr Tymofyeyev, AWT Bavaria, Ukraine
Jeffrey Gan, Sime Darby Auto Bavaria, Malaysia
Zuming Zhang, Shaoxing Baoshun, China
Jörg Felske, Procar, Germany
Jury Award – Best Retailer in Sustainability
Bayern AutoGroup, Denmark
Autogermana, Colombia
Bavaria Motors, India
Nanjing Ningbao, China
Schmidt, Germany
If you have any questions, please :
BMW Group Corporate Communications
Julian Hetzenecker, BMW Group Business and Financial Communications
[email protected]
Telephone: +49 89 382-39229
Emma Begley, BMW Group Business and Financial Communications
Telephone: +49 89 382-72200
Media website: 
Email: 
The BMW Group
With its four brands BMW, MINI, Rolls-Royce and BMW Motorrad, the BMW Group is the world's leading premium manufacturer of automobiles and motorcycles and also provides premium financial and mobility services. The BMW Group production network comprises 30 production and assembly facilities in 14 countries; the company has a global sales network in more than 140 countries.
In 2017, the BMW Group sold over 2,463,500 passenger vehicles and more than 164,000 motorcycles worldwide. The profit before tax in the financial year 2017 was € 10.655 billion on revenues amounting to € 98.678 billion. As of 31 December 2017, the BMW Group had a workforce of 129,932 employees.
The success of the BMW Group has always been based on long-term thinking and responsible action. The company has therefore established ecological and social sustainability throughout the value chain, comprehensive product responsibility and a clear commitment to conserving resources as an integral part of its strategy.
Facebook: 
Twitter: 
YouTube: 
Google+: